Retainers
Removable Retainers:
Congratulations on the removal of your braces. We think your smile is fantastic and hope that you do as well. The active phase of your orthodontic treatment is now complete and a very important new phase is beginning. Because your teeth move throughout life, it is very important to maintain your new smile by wearing your retainers faithfully. Remember the following with retainers:
Retainers are normally worn full time for 6 months then night time indefinitely.
Please keep retainers in a retainer case when they are not in your mouth
Keep retainers clean by brushing them with warm water and soft soap.
Do not play with your retainers by flipping them in and out with your mouth or biting them into place.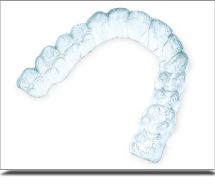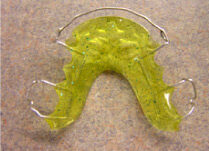 Twin Block Retainer:
A twin block appliance is delivered after the removal of your braces. The twin block appliance encourages the lower jaw to grow in a forward direction by advancing the jaw and stabilizing it for at least one year. While wearing the twin block, it is important to always bite down in a forward motion. The twin block is specially designed like puzzle pieces to lock in this forward position. Please keep in mind:
A twin block is normally work full time for one year
Please keep your twin block in a case when it is not in your mouth.
Keep the twin block clean by using soap and water
Do not play with your twin block by flipping it in and out with your mouth.
The twin block is designed to absorb certain pressures in the mouth, but it is made of acrylic, biting in into place may break the appliance.
Lingual Arch Retainer:
A lingual arch retainer is place to help maintain space while we are waiting on the rest of the adult teeth to erupt. The arch is typically placed after the braces are removed and stays in place until adult teeth are in including the 12 year molars. Please keep in mind:
Do not play with retainer with tongue. Try to avoid flipping bar that is placed behind your teeth. Retainer can possibly come loose.
If retainer does come loose, please call the office so we can glue appliance back in.
Remember to keep appliance clean by brushing around all areas when brushing teeth.